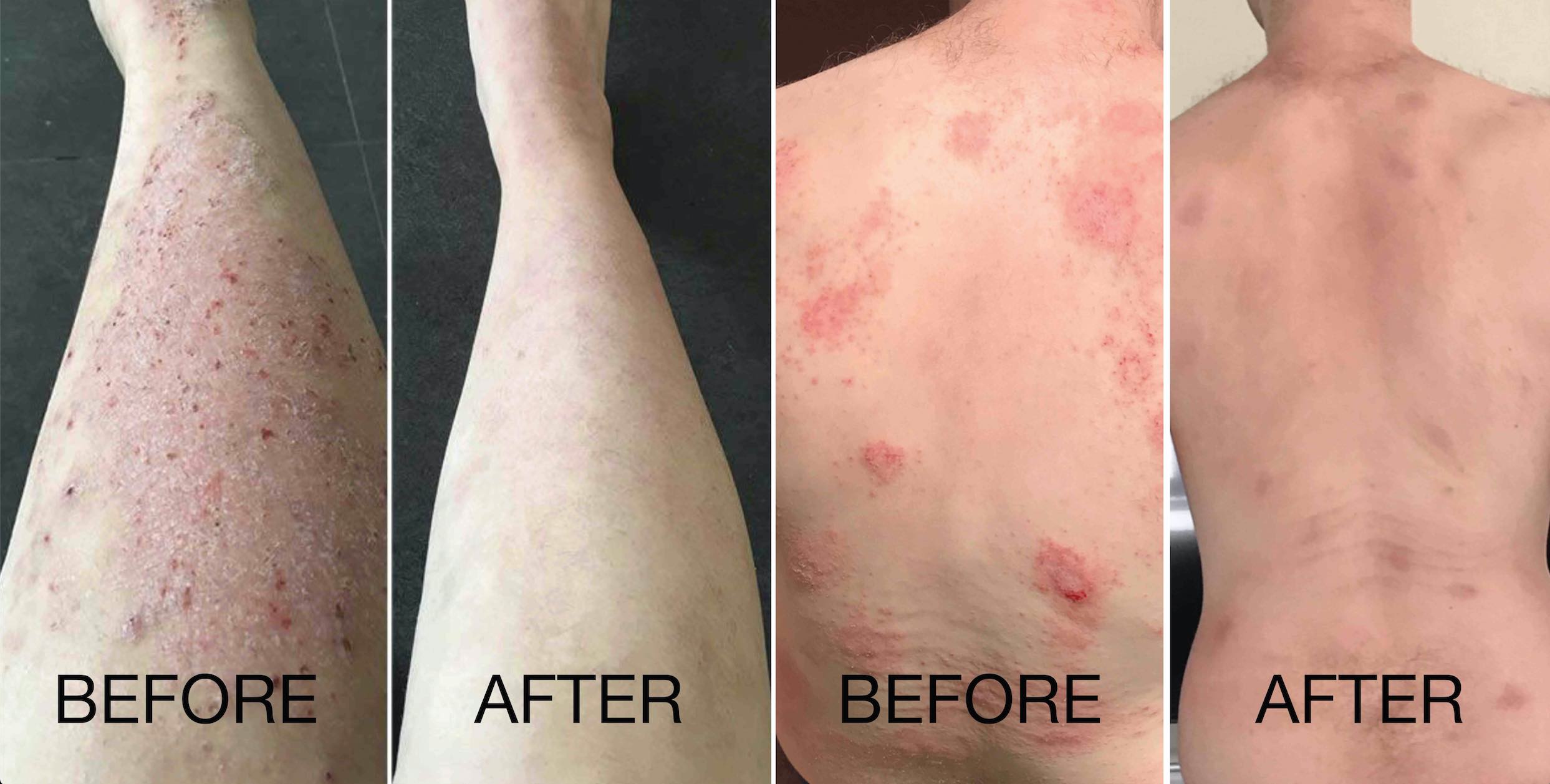 23 Feb

Natural Ways to Relieve Your Psoriasis

Psoriasis is a relatively common skin disease that causes red, scaly patches on the skin. It's not fun and can cause lots of embarrassment and discomfort. It's an immunity related skin condition that is often triggered by stress or sickness, and is more likely to affect those with a family history of the condition. But don't despair, there are a few things that can help control the symptoms.

Here are a few ways to treat the symptoms naturally:

Be kind to your skin;

To prevent further irritation, wash with a non-soap cleanser. Oats are great alternative. Place two handfuls of rolled oats into an old pair of stockings. Tie it off, and use in the bath or shower as a cleanser for your face, or as a gentle soap alternative for the entire body. After a shower or bath, massage a gentle tea tree based lotion into your skin. This duo will decrease inflammation, promote healing and address any fungal issues.

Watch what you eat;

Did you know certain foods can trigger or worsen a psoriasis outbreak? Alcohol, coffee, red meat, sugar and gluten are the biggest culprits. On the other hand, foods such as fish, walnuts, fruits, vegetables and plenty of water are recommended to keep skin healthy. Herbs such as burdock, nettles, calendula and chamomile can also help ease psoriasis. Brew yourself a herbal tea and drink three cups daily. You can also use these herbs as a topical solution, patting on after your shower, before applying your tea tree lotion.

Keep calm and carry on;

If ever there was a reason to book a holiday, a psoriasis flare-up is that reason. Psoriasis can flare up when you're stressed, so make sure you listen to your body and take some timeout from your busy day to day. A tropical holiday is a good solution. Under the shade of a palm tree relax to reduce stress and enjoy the winning combination of sunshine and salt water. If an island holiday is not on the horizon, enjoy regular walks in the park, along the beach, or add a cup of pharmaceutical grade sea salt to your bath to soothe your skin.

Just add salt;

Not all of us have the luxury of going on a beach holiday to relieve psoriasis, but luckily the benefits of the salt water and ocean air is available in the comfort of a salt room. With regular salt therapy over several weeks, our clients experience relief from their eczema and psoriasis. Some of our avid clients even witness their skin completely clearing, reporting dramatic changes in their visual appearance. Exposure to dry salt improves your skin's good bacteria, while stimulating cell regeneration and exfoliation. This can help ease eczema and psoriasis. Salt therapy is also anti-inflammatory and antibacterial. Combined, these qualities can offer real relief for red, itchy and flaky skin. As salt therapy is natural, it's also perfect for toddlers and babies with sensitive skin.

Internal boost;

Vitamin D and vitamin A are great supplements to assist with psoriasis relief. These fat-soluble vitamins work to reduce the over proliferation of skin cells. An inexpensive old-fashioned remedy that neatly combines these vitamins is Cod Liver Oil.