26 Jul

Get Rio ready with salt therapy

Posted at 14:10h

in

Sport

Only a handful of days until the Olympic games! Quick, everyone! Pack your bags! Stretch your legs! Take your protein shakes! Breathe in some salt!
Wait, what? That's right, salt. Salt therapy is right up there on the Rio To-Do List, as some of our country's top athletes have discovered.

But don't worry – you don't have to be a gold medal-winner to reap the benefits.

For those not in the inner circle (or inner Olympic rings, perhaps), salt therapy is a rehabilitating, natural and drug-free therapy, used to aid sports recovery and improve function. It involves sitting in a comfy massage chair, listening to relaxing music, while breathing in pharmaceutical-grade salt pumped through the air. Sounds MUCH easier than a marathon.

Members of the Australian Swim Team for the Rio Olympics, Josh Beaver and Belinda Hocking, have been visiting our salt rooms to prepare their bodies for the games. It helps them to recover quickly and ultimately perform better by opening up their airways and increasing their oxygen intake. It also helps keep their bodies healthy, giving them a gold medal winning edge.

Just ask some of the top sports players in the country, AFL stars Luke Hodge, Nathan Jones and Trent Cotchin. The three football captains are just some of the many elite athletes who have come for salt therapy sessions at Salts Of The Earth. Luke Hodge spoke to Channel 7's Sunrise about the therapy. "I first started about three years ago as a great way to recover. We push ourselves to the nth degree with games… after you come in here, you just breathe a lot better, and how you sleep that night is sensational."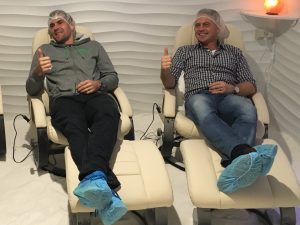 Got that, athletes? If you are training hard, you need to be recovering hard. Take a hint from the pros, and book yourself into a salt therapy session today. After all, you want to be in the best possible shape for those Olympic games… the country is depending on you.